The Predictive 6 Factor Resilience Scale
Being able to accurately and quickly identify where your clients need attention will help you to prioritise effective treatment.
You can accomplish this through the PR6 a new, holistic resilience measurement scale.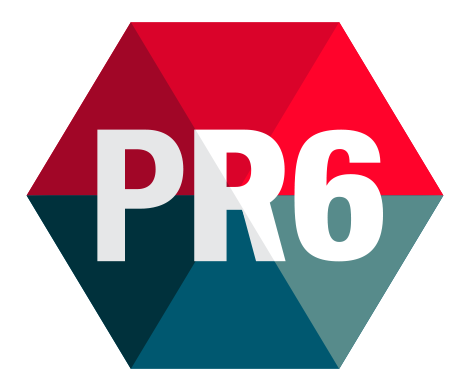 Service summary
The PR6 is a neuroscience-based psychometric measurement scale
It helps clinicians and coaches measure resilience and provide training
It's delivered online, providing instant feedback and reporting
What the PR6 measures
The PR6 measures the six fundamental domains of resilience. The development of these six domains build on the work of Neuroscientist Richard Davidson in 2012 that highlighted distinct emotional styles of the brain and their neurobiological underpinnings. From that starting point, our research links these emotional styles to the domains of resilience and networks in the brain.
Accessible and easy to implement, we have defined the following resilience domains: Vision, Composure, Reasoning, Tenacity, and Collaboration. Our research also indicated that one more fundamental domain is omitted from existing resilience scale, which is the domain of Health. These domains completed the PR6 as a point-in-time measurement, though what makes the measurement truly useful is the additional Momentum measure.
You can read our original research here: researchgate.net/publication/303365936
Predictive measurement
Momentum provides a forward-looking, predictive element to the resilience measurement, indicating likely direction of development from the current point-in-time resilience score. The momentum directional score indicates potential movement through measuring approach and avoidance motivation schemas. This makes the PR6 useful for application in clinical settings and for general coaching purposes.
Building on the neurobiology of resilience
The foundations of the PR6 is built on the neurobiology of resilience where multiple areas of the brain underscore the interacting domains that generate overall resilience capacity. This includes:
the ability of the prefrontal cortex to calm HPA-axis activation,
screening for errors and optimising responses through the anterior cingulate cortex,
the role of the ventral striatum in decision-making and risk/reward cognition,
the fusiform gyrus which interprets facial expressions to adapt to social context, and
neurogenesis facilitated by the hippocampus through the release of BDNF to facilitate adaptation and thriving.
Online delivery through ResiCoach.com
The PR6 is delivered through our breakthrough ResiCoach digital platform. The platform itself provides a simple and easy way to send the PR6 and receive results, providing key benefits:
Accessibility – Participants can access and complete the PR6 on any device, anywhere.
Instant reporting – Reports become available as soon as the PR6 is completed and receive a report that analyses results to identify focus areas.
Training modules – Participants also gain access to engaging video training modules on each of the six domains of resilience to boost treatment.
The Complete PR6 Pack with 10, 20 or 50 Uses
The PR6 Pack provides you with education, guidance and instruction to accurately measure resilience and discuss results with participants.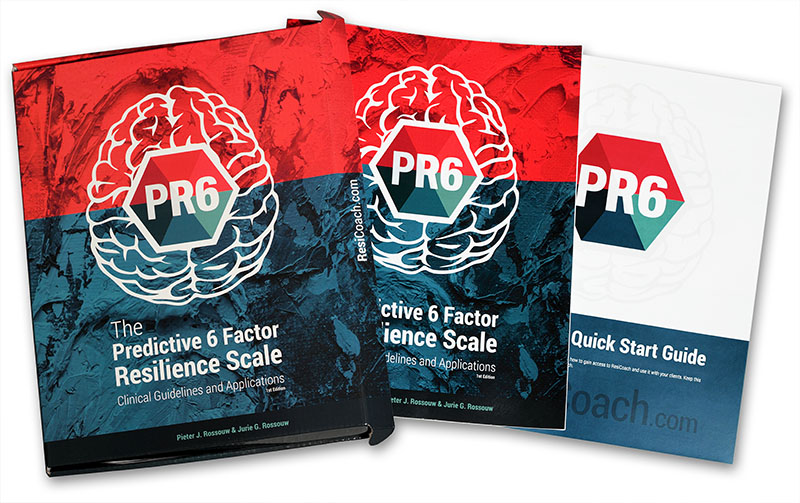 The Complete PR6 Pack includes:
PR6 Manual – The hard copy 80+ page manual discusses in detail the neuroscience of resilience, development of the PR6, how to interpret results and guidelines for sessions with participants. Included is the research paper that discusses the original study in detail.
Access to ResiCoach.com – Exclusive access to our digital platform where you can perform measurement and analysis of individual resilience across the six domains. You can invite participant through your own Admin portal to complete the PR6 and review results.
Quick Start Guide – A simple step-by-step guide on how to use ResiCoach.
PR6 Uses – As purchased. Each use includes an instant individual report for analysing results and quickly guiding conversations towards effective treatment. Participants can also see their scores, and gets access to seven video training modules explaining the domains of resilience.
Start here
Select how many uses you need with the Complete PR6 Pack to get started.
Frequently asked questions
Q: What research supports the PR6?
The full research paper explaining the neurobiological foundations and validation of the PR6 can be read online here: researchgate.net/publication/303365936
Q: How do I buy additional uses?
Additional uses can be purchased through the ResiCoach.com Administrator area. Prices range from $15 to $25 per PR6 use, depending on volume.
Q: How will I get access?
Once you confirm your order and completed payment, you will receive an email invitation from ResiCoach.com with a link to access the system. From there you can set up a password for your admin portal to manage your clients. You will also receive the hard copy manual in the post, and online tutorial videos are available to help you get started.
Q: Does it work on mobile phones?
Absolutely. ResiCoach works great on mobiles and acts like an app, even though not installation is necessary.
Q: How can I use the PR6 uses?
It is up to you how you employ the individual PR6 uses. For example if you have 20 PR6 uses available, you can measure 20 people once, or measure one person 20 times. Each measurement takes one PR6 use.
Q: How do the PR6 uses work?
You gain access to your own ResiCoach admin portal. From there, you can add a new client and invite them for measurement. The invitiation is sent via email to your client, from where the client can complete the PR6 questionnaire.
Once finished, you can view the report instantly on your admin portal. Each measurement takes one PR6 use. Following PR6 measurement, clients gain 3 months of access to video training modules on each resilience domain. As the clinician or coach, you can then work through the results with your client as you prefer.
Q: What is the BuildR program?
BuildR is a comprehensive training course to build resilience. What makes it unique is daily microtasks that fit together to build resilience skills and healthy habits, changing the brain of participants. It can be delivered as a facilitated course, directly online, or in a hybrid configuration.
Q: How does the PR6 and BuildR fit together?
BuildR flows naturally from the PR6 all within ResiCoach.com. As the client works through the six domains, each training module breaks down into additional weekly activities with daily Microtasks. Once these activities are completed for a domain, the client moves on to the next domain.
Q: How does the BuildR program work?
BuildR extends the six training modules into a comprehensive program which includes pre and post PR6 measurements. BuildR itself includes daily microtasks to gradually build neural pathways and produce lasting change. The program lasts from 6 to 10 months, depending on client need.
ResiCoach delivers content and microtasks digitally, and follows up automatically with clients to improve accountability. Clients get access to the program for a full year, and some modules are repeated if needed. As a clinician, cost to access the BuildR content and ability to use with clients is $295 per year. Cost per client use is also $295 per year.
Q: Who is the PR6 and BuildR suitable for?
Settings are available to change the context of the course, making it suitable as needed for professionals, school students, tertiary students, athletes, and adults not currently employed.